Key Personnel
Endpoint Solutions' success is based on the level of experience of its employees and the delivery of a superior product within a fixed budget and on schedule. Lasting client relationships are paramount and therefore Endpoint employs the best professionals to serve these clients.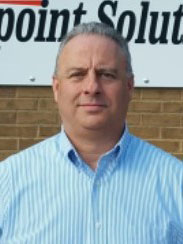 Robert A. Cigale, P.G., Principal, brings over 30 years of diversified professional environmental consulting experience to Endpoint. Mr. Cigale is a licensed Professional Geologist in Wisconsin and Illinois and registered PECFA consultant. His areas of expertise include: soil and groundwater investigations related to PECFA, BRAC and Brownfield redevelopment sites, remedial options evaluations, Phase I & II ESAs, remedial design and due diligence associated with third-party liability transfers. Mr. Cigale's client base includes chemical manufacturers, redevelopment authorities, municipalities, real estate developers, attorneys and utilities. He also currently participates as a member of a community advisory committee for a local chemical manufacturing facility. Download vCard

Mark J.K. Penzkover, P.E., Principal, brings over 30 years of professional environmental consulting and civil engineering experience to Endpoint. Mr. Penzkover is a licensed Professional Engineer and PECFA consultant in Wisconsin. His areas of expertise include: the evaluation, design, specification and implementation of innovative remedial technologies; management of third-party liability transfer projects; design of traditional remedial systems; contract administration; and construction project management on a wide range of civil and environmental engineering projects. Download vCard

Kirk L. Kapfhammer, P.G., Principal, possesses over 25 years of professional environmental consulting experience. Mr. Kapfhammer is a licensed Professional Geologist in Wisconsin as well as a Wisconsin certified tank assessor, and PECFA consultant. His areas of expertise include: environmental project management, Phase I & II ESAs, Brownfield redevelopment, remedial action evaluation and implementation, third party liability transfer evaluations, regulatory compliance planning and audits, safety and environmental planning, environmental due diligence and international project management. Mr. Kapfhammer's client base includes manufacturers, attorneys, redevelopment authorities, municipalities, real estate developers and utilities. Download vCard

Wade C. Wollermann, P.E., Principal, is a Professional Engineer with licensure in multiple states and over 20 years of experience in civil and environmental engineering and construction management. Mr. Wollermann's expertise includes project management, inspection, design and construction of flammable and hazardous material storage systems, industrial water/wastewater collection and treatment systems, sanitary sewer evaluation studies, sanitary and storm water collection systems and groundwater remediation systems. His work has included treatment system optimization investigations, operations and maintenance of privatized utilities, preparation of project drawings and specifications, investigative and monitoring sampling, construction oversight, surveying and reporting. Mr Wollermann is a licensed AST/UST installer in Wisconsin and a Steel Tank Institute (STI) above-ground tank inspector. Download vCard

Nick W. Draskovich, Engineering Designer, has a professional background which includes working as a Civil 3D Instructor, trainer and mentor of CAD staff. Mr. Draskovich is proficient in CAD drafting operations in Civil, Environmental and Architectural disciplines and oversees Quality Assurance and Quality Control for drawings and standards for Endpoint.  He is trained in Autodesk AutoCAD, Autodesk Civil 3D, Autodesk 3ds Max Design, Autodesk AutoCAD 360, Microstation basics, Chief Architect, Trimble GPS handheld GeoXH units, Terrasync, Pathfinder Office and Autoturn.  Mr. Draskovich also assists with field support to projects including GPS operations, construction management, groundwater, soil and sediment sampling.  Download vCard

Fredrick J. Ringle, Senior EHS Consultant, Mr. Ringle brings 30 years' experience in environmental project management for remediation projects and emergency response operations. Mr. Ringle's expertise includes emergency response for chemical releases, firefighting, handling of hazardous materials, including: characterizations, packaging; profiling; transportation; and, disposal of the waste materials generated. Mr. Ringle has also provided training, including as an adjunct instructor at two local technical colleges on the topics of emergency planning, response for abnormal operations and safe handling procedures for a broad spectrum of chemicals and different manufacturing operations. Download vCard

Jason A. Heinonen, P.E., Senior Engineer, Mr. Heinonen has more than 15 years of experience in site design, permitting, utility design, and storm water management for medium and small format commercial sites and is licensed as a Professional Engineer in Wisconsin. Mr. Heinonen's specialties include site planning, due diligence, grading and erosion control, utility design, and permitting. In addition, Mr. Heinonen has 6 years of experience in the environmental and remediation field. Download vCard

Robert J. Schoenhard, Senior Consultant, Mr. Schoenhard has nearly 20 years experience with environmental, health and safety compliance with a specific emphasis on the food and beverage industry. Mr. Schoenhard has developed and maintained compliance programs for facilities to meet state, EPA and OSHA requirements. Responsibilities have included participation in OSHA PSM and EPA RMP audits, EPCRA Tier II reporting, TRI reporting, wastewater and storm water permitting, industrial hygiene monitoring and safety program development and auditing.

David A. Schwoerer, Senior Consultant, Mr. Schwoerer has over 30 years of safety-related consulting experience. Mr. Schwoerer provides a full spectrum of loss control services, such as management and employee training, safety inspections, hazard analysis, and development of ergonomic and safety programs, for a wide variety of risks. He assists clients to address OSHA compliance, workers' compensation management, ergonomic assessments, and employee training needs. Mr. Schwoerer's customers include manufacturers, service/retail, school districts and contractors. He has also assisted employers by taking part in OSHA inspections, OSHA Informal Conferences and providing expert witness services.
Chris J. Kunkel, PLS, Senior Surveyor, Mr. Kunkel is a licensed Professional Land Surveyor (PLS) in Wisconsin and has over 30 years of construction and surveying experience. Mr. Kunkel's surveying expertise includes residential, commercial and industrial surveys including topographic, floodplain certificates, wetland boundary, certified survey maps (CSM), ALTA, plats of survey, land divisions and construction staking. Prior to joining Endpoint Mr. Kunkel owned and operated owned and operated Edgewood Surveying, a well-established surveying company providing services throughout Southeastern Wisconsin.

Mark A. LaRosa, Senior Project Manager, Mr. LaRosa's experience includes over 35 years of experience in the industrial, adhesives, chemical and petrochemical industries with 20 years of Project/Construction Management experience. Comprehensive experience includes cost tracking and reporting, engineering and coordination, field surveys and contractor bid walkdowns, safety program reviews and compliance, lead client contact, onsite construction management, lead supervision of architectural engineering, design of industrial, chemical and petrochemical piping and equipment.